10 years of experience
LAYERFIVE Integrated Limited provides a complete range of engineering services for industrial operations. We have executed and delivered a record number of projects to our teeming clients. We have continued to maintain relevance and dominate the market in our different areas of specialization. Our project lead in our different service areas are well experienced and ensure the smooth execution and timely delivery of projects.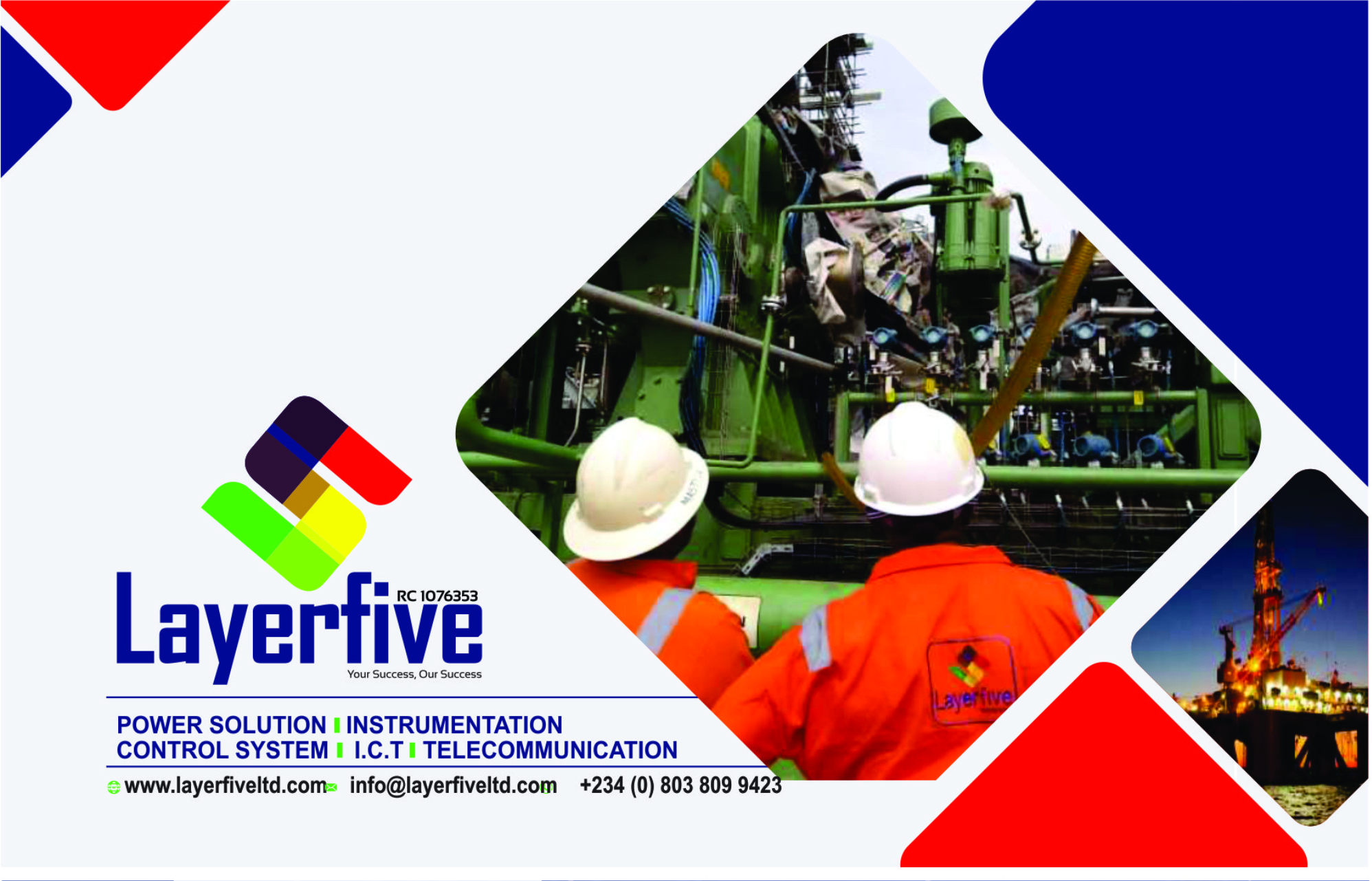 Electrical Engineering:
◊ Power distribution: LV, MV and HV
◊ Portable switch rooms
◊ Earthing and lightning protection       system
◊ Electrical construction work
◊ Mechanical construction work
◊ Testing and commissioning
◊ Operations & Maintenance
Renewable Energy Solution:
◊ Solar systems design, engineering & consultancy
◊ Project planning & management
◊ Simulation of solar photovoltaic system
◊ Training & capacity building
◊ Energy auditing & management (EAM)
◊ Strategic panning of hybrid energy systems.
◊ Sales & marketing of reputable alternative energy products
Instrumentation:
◊ Installation of instruments
◊ Calibration of instruments
◊ Instrument fabrication work
◊ F & G System
◊ Instrument commissioning
◊ Process instrument audit

Control Systems Automation:
◊ Customer interface: PC- based HMI and       Industrial HMI.
◊ PLC hardware: small controllers, standalone PLC, site-wide distributed PLC controllers and distributed control systems (DCS).
◊ Networking: Ethernet, fibre, serial, CAN bus, wireless, PROFIBUS, ControlNet, DeviceNet and Modbus Database and Reporting.
Information Communication Technology:
◊ Surveillance solution
◊ Structural cabling (LAN, etc.)
◊ Access control solution
◊ Custom application development
◊ Communication system (telephone, radio, etc.)
Telecommunication:
◊ RF/Microwave radio installation
◊ Fiber optic deployment
◊ TVRO system installation
◊ Turnkey site works
◊ Project management 
Get A Free Quote For Your Next Project
We execute and deliver quality jobs that meet and even beat your expectations  and at record time.
Contact us today for that project of yours